Yesterday we wrote Fixing The Facebook News Feed which focused on the end user. But what can anyone who is using a Facebook Fan Page for marketing purposes do about this to ensure that your Facebook Fan Page fans are seeing your Facebook Fan Page updates?
As you may already know, when it comes to the constant layout & functionality changes at Facebook, you, as a marketer, are at their mercy as to what you can and cannot do.  With this most recent change your best course of action is to contact each individual Facebook Fan Page fan and educate them on the change as far as what it means to them and how they can make adjustments.
You probably do not have the contact information for all of your Facebook Fan Page fans, but luckily Facebook offers a way in which you can send them messages through Facebook.
Here's how you send a message to all of your Facebook Fan Page fans, or to a segment of them if you so choose.
1) While on your Facebook Fan Page, click on the Edit Page button in the top corner.

2) Click on the Marketing link and then click on the Send an Update link. (If you're logged in as your Facebook Fan Page you willl be prompted to send the update as yourself.)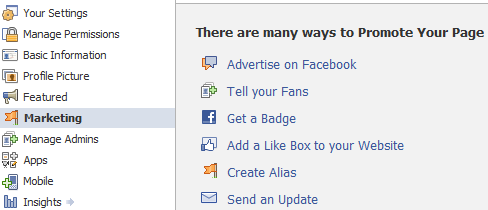 3) Compose a message to your Facebook Fan Page fans to let them know about the changes to Facebook and let them know how to fix this.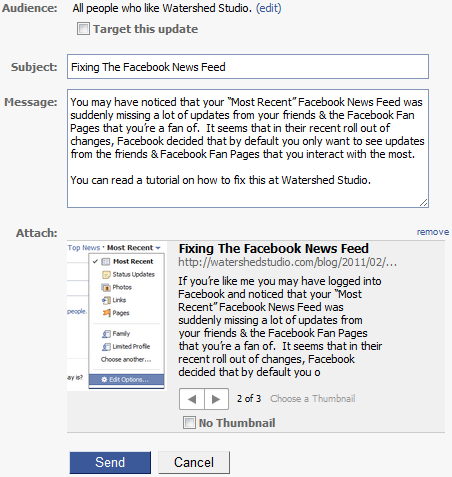 At this point your Facebook Fan Page fans will be sent the message and will be able to make the necessary adjustments in their Facebook account.