If you're like me you may have logged into Facebook and noticed that your "Most Recent" Facebook News Feed was suddenly missing a lot of updates from your friends & the Facebook Fan Pages that you're a fan of.  It seems that in their recent roll out of changes, Facebook decided that by default you only want to see updates from the friends & Facebook Fan Pages that you interact with the most.
I don't know about you, but that is not what I want.  If there are people I don't want to see updates from I can either not be friends with them or I can hide them.  For Facebook Fan Pages, I would not opt into a Facebook Fan Page if I did not want to see their updates. But sticking by their M.O., Facebook has decided that is indeed what everyone wants.
Never fear, there's a way to fix that.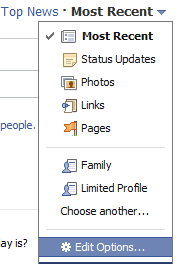 1) From your home page at facebook.com, click on the Most Recent arrow link to bring up your options.
2) Click on Edit Options to bring up the Edit Your News Feed Settings screen.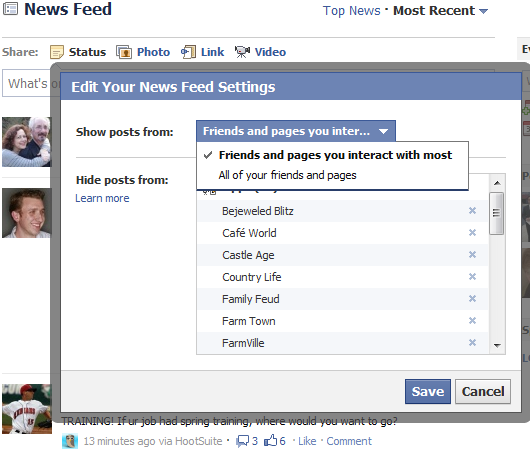 3) In the "Show posts from" drop down check the "All of your friends and pages" options and then click on the Save button.
Now you'll start seeing updates from your friends and Facebook Fan Pages again.