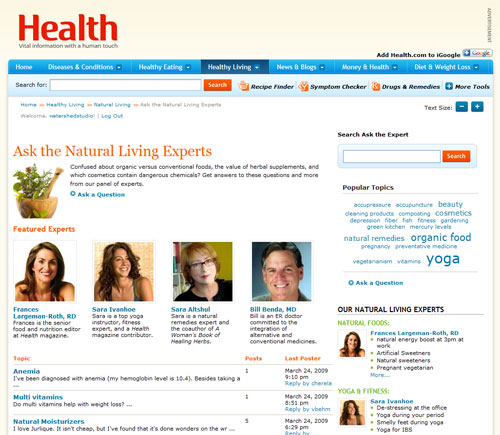 After a lot of hard work with the teams at Health.com, Automattic and a slew of other people I'm probably forgetting, the first Health.com TalkPress VIP based forum, Ask the Natural Living Experts, was launched yesterday.  (As far as I know, this is the first live TalkPress VIP based forum.)
The TalkPress* VIP project is a continuation of the ongoing WordPress VIP project Watershed Studio has been working with Health.com on since 2008 (a good overview of that can be found on Automattic's WordPress Publisher Blog).  In a nutshell, the various areas of Health.com's website are ran by different underlying software applications which are all pulled together with the same template/theme in order to make visiting the website fluid.
So if you have a minute, please take a look around the new forum.  And if you have any feedback, good or bad, we'd greatly appreciate it.
* TalkPress is Automattic's hosted forum solution and is based on their open source bbPress offering.  Many of the new features are not currently available in the stable release of bbPress, but should be when the next version arrives.
[Update – April 9th, 2009: Sam Bauers talks about TalkPress on the bbPress Blog. Sam has been an excellent help in getting this rolled out.]